FᴜᴛPʀIɴᴛ50 Final Review Meeting
Welcome to the webpage dedicated to the final review meeting of the FᴜᴛPʀIɴᴛ50 Project, which took place on June 29-30, 2023, at the prestigious European Scientific Collaboration Project Building in Brussels, Belgium.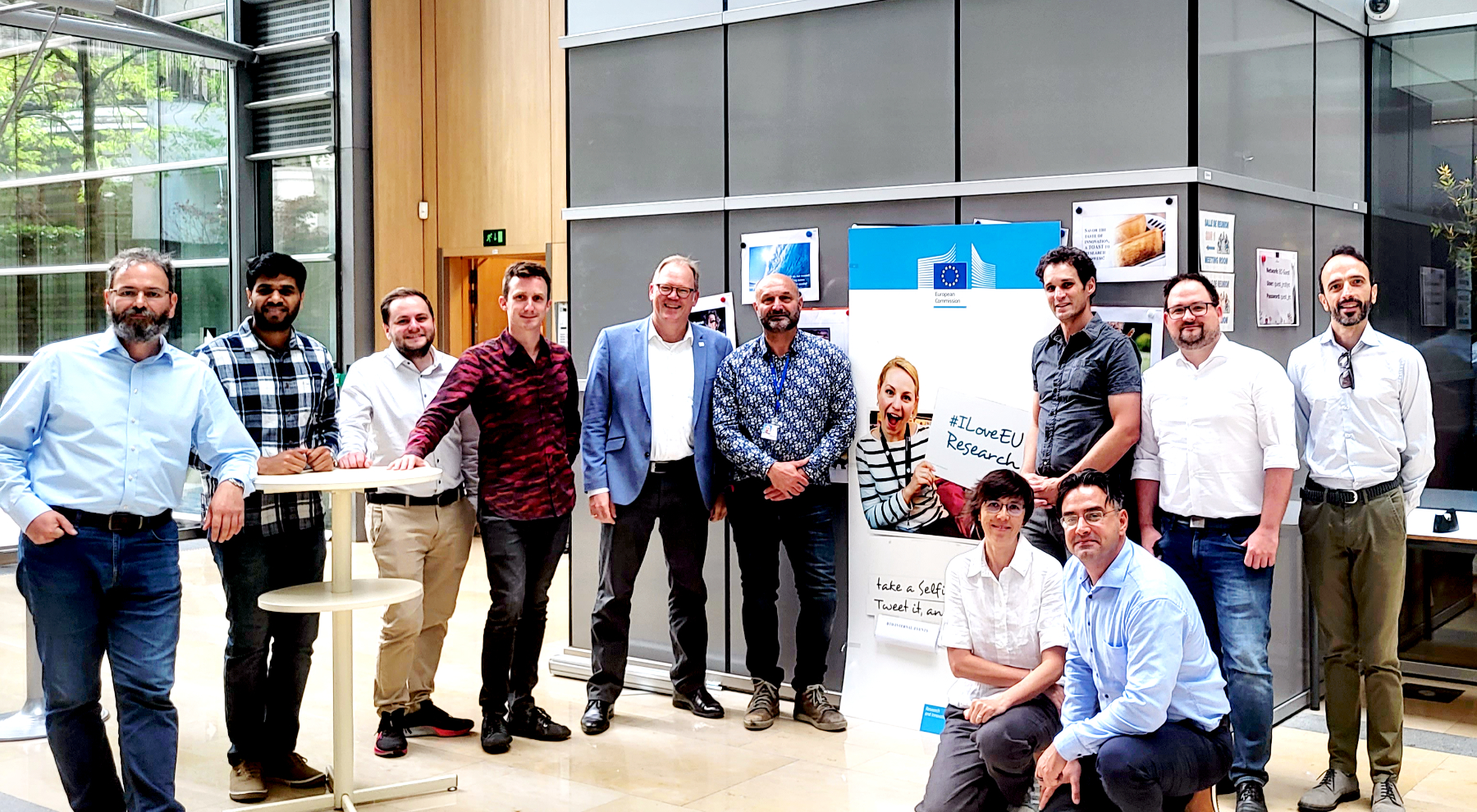 This highly anticipated event marked the culmination of an impressive 42-month journey filled with unwavering dedication, collaborative teamwork, and relentless commitment from all the stakeholders involved. The primary objective of this momentous occasion was to comprehensively showcase the remarkable outcomes, achievements, and deliverables of each Working Package (WP) within the project. The meeting served as a platform for presenting and evaluating the technical, dissemination, and financial aspects of the project, ensuring a thorough assessment and providing valuable feedback. Throughout the 42-month duration, the FᴜᴛPʀIɴᴛ50 Project brought together a diverse group of experts, researchers, and industry professionals who worked tirelessly to advance the project's goals. Their collective efforts led to groundbreaking innovations and impactful solutions aimed at reducing our carbon footprint and promoting sustainable practices.
In the final review meeting, each Working Package (WP) had the opportunity to present their specific contributions and highlight the significant milestones reached. This comprehensive overview allowed attendees to gain a deep understanding of the project's overall progress and the transformative impact it has had on various sectors. The final review meeting of the FᴜᴛPʀIɴᴛ50 Project was a truly momentous occasion, celebrating the remarkable achievements and recognizing the dedication of all those involved. It stands as a testament to the power of collaboration, innovation, and commitment to building a sustainable future.
Meeting Agenda
29 Jun 2023 / 10:00–17:00 CEST | Brussels

09:30 – 10:00

Reception and registration

 

10:00 – 11:00

The FUTPRINT50 Project

Challenges of the project

11:15 – 12:30

Technology evaluation &  Sub-system models

Energy storage
Thermal Management System (TMS)
Energy harvesting
Integration of subsystems

13:30 – 14:40

Aircraft Level Evaluation

Design methodology
Aircraft Level Evaluation – SUAVE

15:10 – 15:30

Open Reference Aircraft

15:30 – 16:05

Key insights

16:05 – 16:35

The FUTPRINT50 Roadmap

16:35 – 17:00

Summary and open discussion

 

30 Jun 2023 / 09:00–12:00 CEST | Brussels

09:00-12:00

Working Packages Overview

WP1: Project management
WP2: Requirements Specification & Design Methodology
WP3 : Aircraft energy system analysis
WP4 : Aircraft level (architecture) analysis
WP5: Technology Validation & Roadmap
WP6: Dissemination, communication & exploitation
WP7: Ethics requirements
Gallery