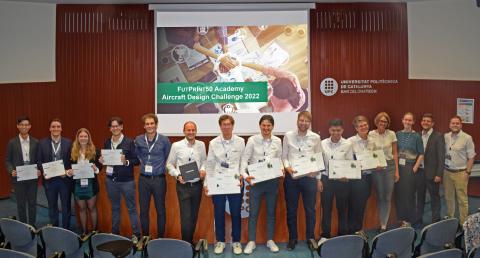 On the 19th of October 2022, the FᴜᴛPʀIɴᴛ50 Aircraft Design Challenge celebrated its award ceremony and came to an end during the 12th EASN International Conference on "Innovation in Aviation & Space for opening New Horizons" in Barcelona, Spain following a 6-month competition among 14 promising young scientists, forming four teams. Each team consisted of a maximum of five MSc. students from all over Europe who presented their proposals for a hybrid-electric aircraft design.
This year's participants were:
Cristian Javier Mejía, Jona Eissele, Julian Schließus, Stefan Lafer, and Tristan Wiedmann from University of Stuttgart with their project HAIQU.

Carlo Rotundo

, 

Egon Beyne

, 

Katarina Grubbe Hildebrandt

, and 

Yi-Kai Peng

from

TU Delft Aerospace Engineering

with their project Clean-Sheet Design of a Hybrid Electric Aircraft: EGRET Electric Green REgional Transport.

Alfio Campo

from

Università degli Studi Niccolò Cusano

with his project Regional Aircraft Hybridization.

Andrea Fiorino

, 

Francesco Marrocco

, 

Vincenzo Donato

, and 

Vincenzo Mazzone

from

Università del Salento

with their project Conceptual design and optimization of the LEAF hybrid aircraft: a step towards the future.
The first-place prize, a mentorship by three leading Embraer top executives and a free open-access journal article, went to the team from the University of Stuttgart for their aircraft design concept "HAIQU". Warm congratulations to the winners and to all candidates of this year's contest on their outstanding achievements.
The students presented their projects to an international jury of highly qualified scientists and engineers with worldwide reputation in their chosen fields. Specifically, the jury panel was made up of:
Prof. Dr. Afzal Suleman from the University of Victoria,

Anaïs Luisa Habermann M.Sc., Bauhaus Luftfahrt e. V. representing our fellow H2020-IMOTHEP project

Katharina Ertman representing ADSE Consulting and Engineering

Ricardo Reis representing Embraer
The contest was an initiative of the FᴜᴛPʀIɴᴛ50 consortium and part of the FᴜᴛPʀIɴᴛ50 Academy that aimed to prepare young scientists and future professionals for today's most urgent challenges in the aviation sector. The work of each of the candidates is more important than ever, as these early-stage engineers try to propose answers to the crucial scientific question, "How can we continue flying without impacting the planet?".