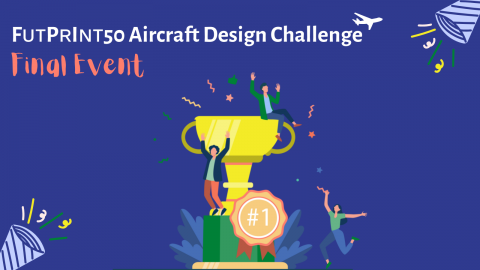 After six months of brainstorming and hard work on the FᴜᴛPʀIɴᴛ50 Aircraft Design Challenge, the excitement among students has been growing, as the final stage of the competition is fast approaching!
The FᴜᴛPʀIɴᴛ50 Aircraft Design Challenge is going through its last phase and will celebrate its award ceremony in the framework of the  12th EASN International Conference on "Innovation in Aviation & Space for opening New Horizons" in  Barcelona, Spain from the 18th until the 21st of October 2022.
At this special event, to be held on the 19th of October from 17:00 to 18:40 CEST, the five participating teams, which each consist of a maximum of five MSc. students, will present their proposals for a hybrid-electric aircraft design according to CS-25 regulations where possible. The contestants will make pitches explaining why it would be wise for an airline to select their design. Their presentation will be limited to 15 minutes, followed by 5 minutes of questions from the juries.
Towards the end of the event, the jury panel, made up of independent reviewers with expertise in the area of the challenge, will announce the winning team. The first-place prize for the winning team will be a mentorship by three leading EMBRAER top executives through dedicated meetings and a free open-access journal article while all participating students will receive a participation certificate.
FᴜᴛPʀIɴᴛ50 Aircraft Design Challenge Presentations
17:00 Regional Aircraft Hybridization | Campo Alfio Alessio
17:20 AAPE-98 Hybrid Electric Aircraft | Leo Emanuele, Gravili Pierluigi Antonio, Marzanese Antonio, Musardo Antonio
17:40 Conceptual design and optimization of the LEAF hybrid aircraft: a step towards the future | Vincenzo Mazzone, Andrea Fiorino, Francesco Antonio Marrocco, Vincenzo Donato
18:00 The future regional aircraft | Jona Eissele, Stefan Lafer, Cristian Mejía Burbano, Julian Schließus, Tristan Wiedmann
18:20  The First Step towards Green Aviation | Yi-Kai Peng, Egon Beyne, Katarina Grubbe Hildebrandt, Ozaif Ali, Carlo Rotundo 
Full Agenda
Here.
Venue
Hybrid Event.
Universitat Politecnica de Catalunya – BarcelonaTech (UPC).
Join us!