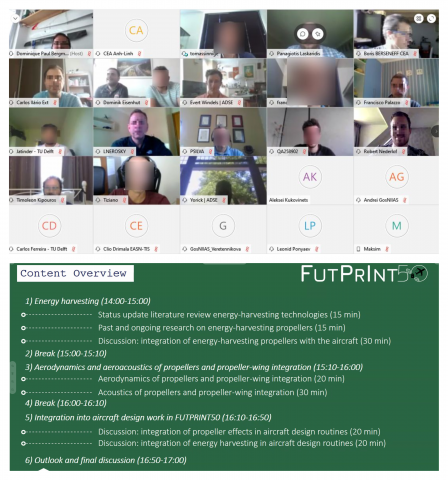 FᴜᴛPʀIɴᴛ50 organises a series of digital internal workshops to discuss key interactions and synergies among the three key-technologies considered in the project: energy harvesting, energy storage, and thermal management, and their integration in terms of:
missions and energy strategies

propulsion and electric motors, and

aircraft concept integration.
The first workshop led by Delft University of Technology with the support of the Niccolò Cusano University focused on energy harvesting. 30 researchers joined online to discuss approaches, interfaces and potential issues for energy harvesting with propellers, covering topics ranging from energy efficiency to noise emissions to integration at aircraft level and more. The workshop was a success and paves the way for the detailed technical work that will be performed on energy-harvesting propellers in the remainder of the project.
Within July four more workshops of high-quality content will follow encompassing topics like propulsion and electric motors, thermal management, missions and aircraft design and energy storage. 
1st e-workshop on Energy Harvesting | 22 June 2020
2nd e-workshop on  Propulsion & electric motors| 1 July 2020
3rd e-workshop on Thermal Management| 3 July 2020
4th e-workshop on Missions & aircraft design| 6 July 2020
5th e-workshop on Energy storage| 10 July 2020